The human resource department is always at the core of any company, supporting business at the ground level to expand and grow. From recruiting, managing, and retaining human resources very effectively, the human resource department plays a very important role in dealing with all sorts of employee queries, problems, issues, and more. And if you are perplexed about how human resource software can take your organizational performance to the next level, then go through the points below.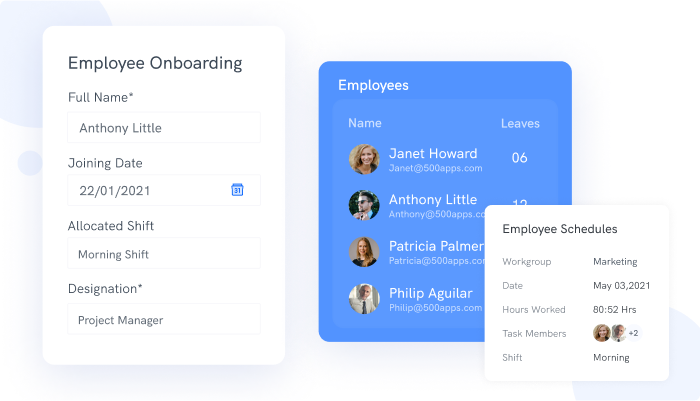 Benefits of HR Software:
Human Resource Management:
Any organization's human resources may vary from fifty to hundreds and thousands, depending on the organization's size - big or small. Managing these hundreds and thousands of employees can be cumbersome and tricky for the HR department when it comes to doing it with manual tools. However, with an efficient HR dashboard in Human Resource software, things seem to be simple and easy to handle as everything is laid out for you. It is easy to arrange all the employees' personal details from background checks, records, profiles, and other additional data.
Interestingly, it also includes a communication channel in the dashboard, allowing you to directly communicate to the other departments and disseminate the information as required.
Employment Law:
When it comes to employment law, HR software is hugely beneficial. The full-fledged HR system can comply with the employment law to avoid unwanted situations regarding the employees. In addition, it keeps up with the employees' overall records and updates. There is a complete pile of different types of compliance issues that HR software can help you. It is highly helpful for small and medium-sized companies who usually do not have employment law advocates or a different overall department.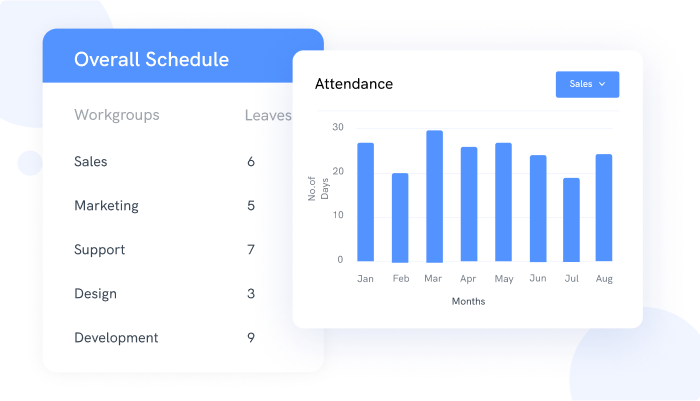 Employee Health and Safety:
Your Employees' health and safety are always your priority, and excellent human resource management software helps you manage it very efficiently. Especially helpful for SMEs and startup companies, HR software employees' health and safety features help you to take concise steps to mitigate risks.
With integrated EHS best practices, you can gain an understanding of where the risk lies in your organization without just focussing on it in one place. As a result, you can efficiently and effectively prevent unwanted incidents easily.
Employee Monitoring:
One of the most important aspects of HR for any human resource department is monitoring employees along with their performance. An excellent HR software includes an efficient employee monitoring tool that helps you understand how your employees use their time. You can even extract the data to figure out a more efficient and productive team. With the more focused productive features, the tool gives you a clear picture of your employees' productivity along with daily activities and timesheets. Hence, you can organize teams for more productivity with data-driven results.
Employee Support:
The main aim of the human resource department is to bridge the gap between employees and employers. As an employee support system, HR usually works out to resolve any queries or issues employees may have. And, good HR software always provides all the pre-requisite information to deal with certain issues or helps you customize the norms according to your company's set rules and regulations. To deal with certain situations regarding employees in your company, you can set in your company's guidelines into the HR system. Hence, you can become an excellent employee support system with an efficient HR tool. It helps you in several ways, from addressing their grievances, fulfilling requirements, and resolving specific issues.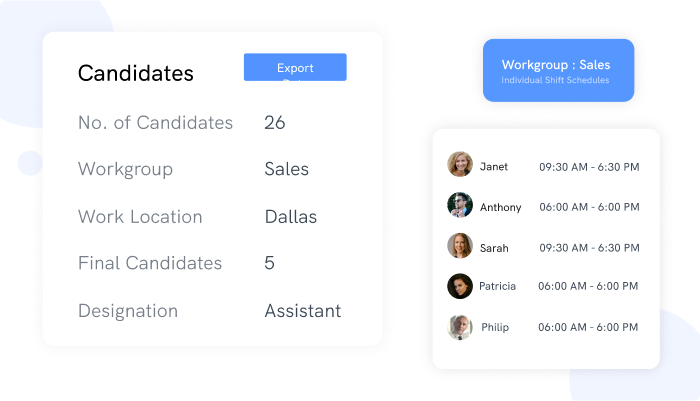 Shifts & Rotas:
When struggling with rotas and shifts, HR software helps manage it efficiently for you. Without spending days creating rotas for your team or employees, you will be able to do it in minutes with a human resource tool. In addition, the advanced tool helps you create and manage your teams' shifts with ease. Not just restricted to this, you can also drag and drop shifts according to your budget and project requirements.
With an efficient HR management tool equipped with an in-built Rota and Shift system, your staff can self-manage as they can swap shifts easily with the auto-generated shift allotments. Eventually, it reduces a lot of administrative tasks and removes human errors.
Sick Leave:
A good HR solution helps you efficiently manage the leaves, especially sick leaves and absences. Regarded as one of the most time-consuming elements for HR managers, tracking and managing employees' sick leaves is easily manageable with advanced HR software. It simplifies and automates the way employees take the leaves and keep track of each employee's remaining leaves. It also helps to calculate leaves on a pro-rata basis. Not just sick leaves, a good HR system handles all types of leaves, including paid leaves, casual leaves, and holiday leaves.
Staff Holiday Planner Tools:
With an in-build staff holiday planner functionality in HR software, it is easier for you to manage your staff's holiday. For example, your staff can you can easily request holidays, and you can approve or reject the request on the go. Also, you can set 'blackout' dates, so your staff knows when they are not supposed to take the leaves. Interestingly, you can give your team an overview of their remaining leaves and allowances.
Especially for small and medium-sized businesses, a staff holiday planner is highly beneficial. It raises an alert whenever any holidays of your team members clashes to help you against being understaffed.
Clocking In and Out:
Under the many caps HR wears, checking the ins and outs of employees is one of the crucial things that your HR department takes care of. And, this is very well taken care of by the HR tool that has in-built clocking in and out features that your employee can use with ease. Moreover, with the HR software app version, employees can easily clock in or out just on the go. It is also easier to check their timesheets and fix the errors and log hours on the simple-to-use app, which can be provided to particular clients as required. Moreover, HR personnel can easily get a single shot of the location of their employees' clock in and out.
Tracking Company Expenses:
When it comes to tracking, HR departments are not just limited to tracking employees' movement but a lot more, ranging from productivity, performance, revenue generation, and company expenses. Thus, the HR software tool also tracks the business progress and where it stands by tracking records of the company expenses. Undoubtedly, this helps HR predict the upcoming years of the company and supports preventing avoidable issues.
Conclusion:
Whether small or big, all companies always require an efficient human resource management system that can help them tackle various things effectively. And to handle these tasks while reducing much of the manual work and expediting certain activities.
The human resource tool manages and maintains the entire ecosystem of the human workforce and brings in numerous benefits for the company. An excellent human resource management software brings in the benefits mentioned above and adds value to your organization. And if you are wondering which HR software can best suit your organizational needs, check with our experts.