A Guide to Using Employee Facial Recognition in an Organisation
Get insights into the six significant benefits of using facial recognition technology. HRSprout has revolutionized the way companies track attendance.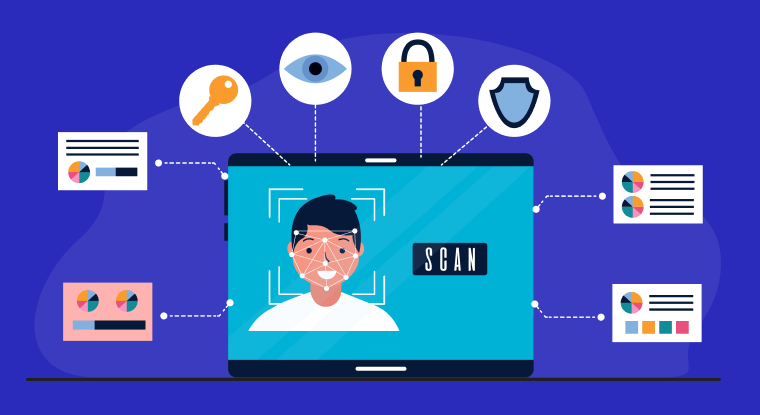 Facial recognition technology is now becoming increasingly needed in the workplace. Employers worldwide search for contactless timekeeping solutions that allow workers to record their Log-In and Log-Out to facilitate accurate payroll calculations, productivity, utilization performance, etc. Hence, as a direct consequence of this, the implementation of biometric time and attendance management solutions will become significantly more widespread than was previously the case.
The concept of face recognition technology to track employee time may sound thrilling, terrifying, or a combination of the two to most business owners. But what advantages does facial recognition technology truly offer for a company like yours? Below, we will discuss all you need to know about this technology and its impact on the workplace.
An Overview of Face Recogition
Before you can start considering the possibilities that facial recognition technology offers, you need to familiarize yourself with it and how it works. Often referred to as biometric recognition, and attendance tracker. Face recognition is a form of identification that relies on measuring and analyzing facial features.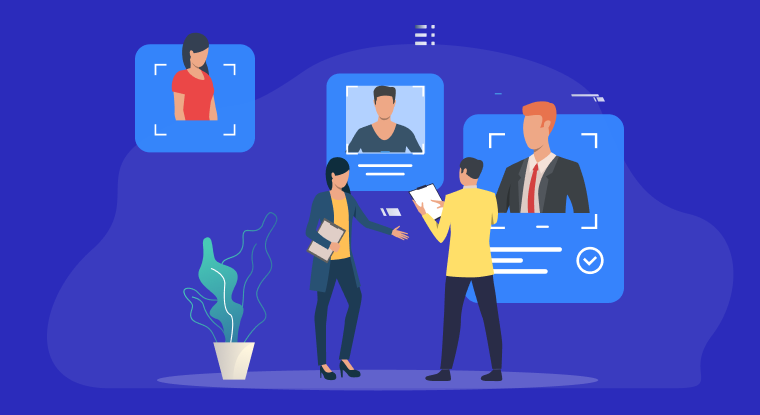 Facial recognition technology uses a camera and video equipment to recognize faces. This equipment translates the images captured into biometric data compared to previously stored information. The technology allows you to verify a person's identity by comparing facial features from a picture or a video to their actual appearance.
Why Is It Important to Track Employee-Time Using Facial Recognition Technology?
Employees can use facial recognition technology to take pictures of employees at their arrival and departure. By introducing face recognition technology, you will be able to perform functions such as leave management, tracking employee attendance and calculating the payroll faster and more accurately than ever before.
If you are still undecided about whether or not to implement face recognition technology for your company's time and attendance monitoring, here are six significant benefits that this technology can bring to your business.
1. Enhances the Safety of the Working Environment
Using facial recognition technology to track employee time, you can ensure that your employees will be safe when they arrive at work. Moreover, this technology enables your business to prevent unwanted individuals from getting on to the premises. With this technology, you can easily verify their identity and assess if they are allowed to enter the building or not.
Additionally, using a biometric time clock that includes facial recognition helps keep employee management data safer than it ever could be with a manual time and attendance system.
2. Reduces Human Error
When you use facial recognition technology to track employee time, you will be able to avoid human error. With the technology, you will be able to assess whether or not an employee's time card is filled in correctly, thereby keeping mistakes to a minimum.
3. Facilitates Time Management
Using facial recognition technology to track employee time will allow you to monitor your employees' time better. The technology will be able to calculate each employee's working hours, overtime hours, and everything in between.
You will know when and for how long your employees have worked, and you will also be able to spot time theft and identify employees that are wasting time on purpose.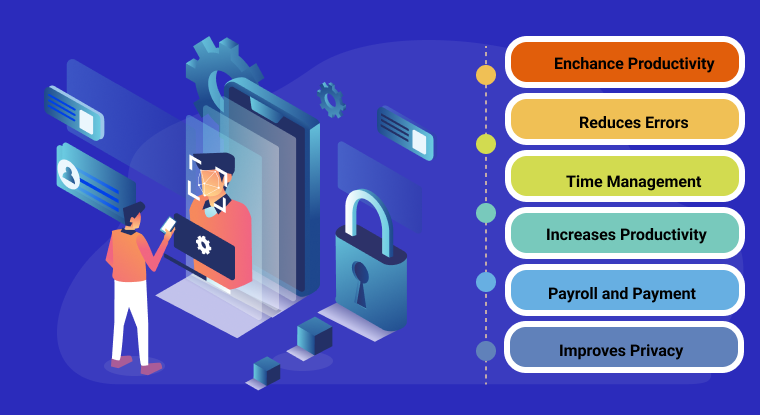 4. Increases Productivity
Employees that know their boss can keep track of their working hours will be more productive. Knowing that the technology is there to ensure that they do not get away with wasting time will make them less likely to do so. Using a biometric time clock with facial recognition will boost staff productivity.
5. Facilitates Payroll and Payment
When you use facial recognition technology to track employee time, you will be able to calculate employees' wages faster and more accurately. Subsequently, the technology will enable you to pay employees sooner.
6. Improves Privacy
Most business organizations are hierarchical, with senior personnel having higher clearance levels. Facial recognition technologies can allow access to the right people while protecting your staff's privacy.
For example, software that recognizes a senior executive's face will grant them access to a higher level of protection. As a result, they will access sensitive personnel information and accounting and human resource records.
Furthermore, facial recognition software can restrict lower-level employees' access to certain information, protecting the organization's privacy.
Conclusion
Facial recognition technology is one of the most significant innovations in biometrics in recent years. Using it will allow you to take the time and attendance tracking to the next level, making the process faster, more accurate, and easier to control.
If you would like to know more about facial recognition technology and how to implement it in your company's attendance system, please contact HRSprout. We will help you find a solution that would be both functional and cost-effective.
Why HRSprout
#1
All-in-One HR Management Solution
#2
Employee Digital ID Card
#3
Instant Employee Onboarding Process
#5
Document Management System
#7
Employee Self Service Portal
#8
Agile Attendance Management Tool
#9
Unbelievable pricing - the lowest you will ever find
#10
Everything your business needs - 50 apps, 24/5 support and 99.95% uptime
Join the SaaS Revolution
All-in-One Suite of 50 apps

Unbelievable pricing - ₹999/user

24/5 Chat, Phone and Email Support