Complete Buyer's Guide for HRMS Software 2022
Make the best choice of HRMS software using this complete buyer's guide for HRMS software in 2022.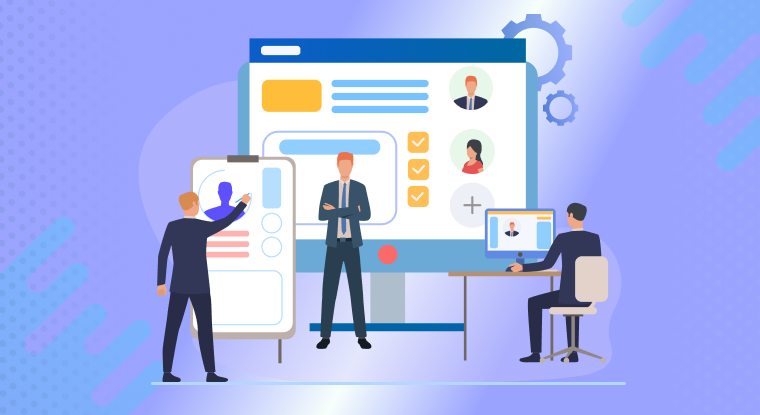 Businesses as a whole or HR teams often end up making the wrong choice when searching for the right HRMS to help streamline routine company HR processes. Sometimes, they simply do not know what to look out for. At other times, the software isn't just well suited for their specific organizational needs. Whichever the situation may be, knowing which HRMS system to commit your HR responsibilities isn't an easy task as this tweet further emphasizes that it goes beyond software for your payroll system.
Although getting the right software to do the job is no small task, it is very much achievable. You can know what features to look for in any HRMS system so you can be sure it gets the job done alright. Further, the processes and steps outlined in this buyer's guide will help you approach the whole process from an informed perspective to ensure that you end up with only the best option.
Since there are a lot of software options, there's definitely one that gets the job done for your business and when you do find it, everything begins to fall into place. Employee onboarding, performance tracking, absence and leave management, and all other Human resource processes all begin to go smoothly; profitability becomes inevitable in the bigger picture.
What to Expect from HRMS Software:
Employee data management:
Beginning with employee onboarding, to performance tracking, payroll, and benefits, the software is expected to be able to track, store and manage all employee data. Doing this adequately helps to make more informed decisions.
The process of collecting, storing, and processing these employee data is often a routine process common across all employees; requires little or no dynamism. Therefore, you need to look out for automation in how the software handles such processes.
The best software keeps it simple, automated, and less time and effort-consuming.
Simplification of routine HR activities:
Simplifying HR-related routine processes by ensuring automation is a must-have feature. These activities tend to be repetitive and ultimately cumbersome and it is the function of technological solutions to streamline such processes. Software that can't do that is of no good!
Once again, a high degree of automation should be looked out for as a clear sequence of action definitely leads to simplification and is less error-prone.
For instance, employees onboard get should have a clear set of steps right from the hiring process. The key things a new employee should get to know should be outlined and how they would be educated should be clearly stated or handled by certain personnel.
Insightful analysis and reporting:
Insightful analysis and reporting are very crucial to making data-backed decisions. Without the input of technological solutions in the form of HRMS software, members of the HR team would have to manually collect the appropriate data, analyze it and make reports of useful deductions to help make informed decisions. Quite tedious!
The big question is that "WHAT GOOD IS HRMS SOFTWARE IF IT DOESN'T DO THIS HEAVY LIFTING?" Therefore, the right HRMS software should be able to help provide insightful employee management and company data analysis and reporting to allow the HR team to focus on more strategic decision-making processes.
Bill Gates emphasize the need for insightful analysis and reporting by saying "How you gather, manage, and use information will determine whether you win or lose". The data should be well gathered processed and actionable insights should be projected in the simplest ways possible so you are ready to pull the decision trigger at any time.
Centralized system:
A quality HRMS software should have a centralized storage system that puts all employee files, company files, and procedures all in one place. It should be cloud-based and automated preferably.
The advantage of this feature lies in the fact that having everything in one place and synced helps to eliminate redundancies stemming from the need to manually make changes and entries across multiple areas.
The centralized system should be in a seamless synchronization with other systems. This synchronization should further culminate in an automatic reflection of changes made on the system. Work hours, Benefits, payroll, etc. all have to reflect across the system and appropriate departments when they are entered.
Steps to follow when selecting an HRMS Software:
1. Answer the question: "WHY DO I NEED AN HRMS SOFTWARE?"
Your organization needs to know what they aim to achieve from the outset. Both long and short-term goals need to be well outlined before looking at any HRMS software.
Doing this is quite straightforward as you need an HRMS software in the first place to help you with cumbersome and repetitive tasks to help save time and effort. In the general company workflow, the activities that take more time need to be identified and direct measures need to be put in place to make them more efficient. As a result, you already know what processes take the most time and those are the ones that should be outlined.
Another factor to consider is how these HR needs align with the goals of the other departments and of course the overall company goals. You need to know where you are at the moment as an organization in terms of HR and overall work operations. Further, you need to figure out where you intend to be in the coming periods and figure out how to get there.
2. Research the features of the available options and match them with your needs:
It goes without saying to take an in-depth look at the features and value offerings of the available HRMS software options. It might appear that most of the options available have very similar features and value offerings but the truth is that they all have their own uniqueness and that is exactly what you should look out for; their uniqueness should match your organization's unique needs.
The company policy and organizational structure of the software solution provider should be taken into consideration. Their perspective on people, effectiveness, and efficiency determine what functionality and features are included in their software and that is why you should take a look at those policies and organizational structure; they need to align with your company's policies or perhaps your vision and philosophy.
3. Determine your budget:
Before making any commitments, you need to know how much you are capable and willing to spend to get HRMS software. Likewise, you should check how well the software solution can help reduce the cost of HR processes such as payroll and benefits calculation, hiring and training expenses, etc.
Ideally, how much you are willing to spend is speaks largely about how important Human Resources information is to you. And that's the question your organization needs to answer right now. Is the workforce expanding more than what your HR team would be able to handle manually? How financially buoyant is the company right now? Does continuity depend on that software right now? Etc. All these questions tell you how much should be committed into getting an HRMS.
Most HRMS software has multiple cost models. Factors such as financial capacity and employee population should help determine which one is chosen.
4. Ask for demonstrations from the most probable options:
You need to see how it all plays out before finally agreeing to buy any software. It's not enough for an HRMS software solution to have awesome features like multiple workspaces, you need to be sure it integrates well with your pre-existing systems. Furthermore, you should know your way around it to guarantee a seamless operation.
Requesting for live demos is essential because it allows you to take the speculation and guesswork out of the selection process. A live demo session requires you working with the software as you would when you finally purchase it. Go about your HR activities with it and see how it boosts efficiency by helping you achieve the same needs you stated from the outset before going on a searching spree.
It is advisable to ask for live demos instead of demo CDs. Live demos are better because you can see how each of the features plays out in real-time and how it addresses your current issues. If possible, ensure your own data and company scenarios are used for the live demo. Basically, try to see it in action in a real-life sense
5. Compare the features and make a decision:
Match the features exhibited during the various live demonstrations with the specific needs and functionalities you listed out as your requirements from the outset. Further, compare the software options with the most matches and probably even offer more.
The live demo earlier discussed also makes it easy to compare the features before making a choice. While it is important to stay focused and stick to the things you wanted in the first place, it is also necessary to be flexible in thinking when you see how each software approaches your HR issues. Some might go a bit further in addressing some issues you didn't remember to outline or probably even didn't know existed.
These reasons are why it is necessary to have a live demo. You then compare the feel and overall features offered. Ask yourself, which of these software was more effective and productive during the demo session? , Which of these software integrated best with our other systems? Etc.
The software with the most features outlined in your needs, which integrates well with your other systems and overall work processes should be highly considered as the best options. Also, you should seek the opinions of your employees as they would be making use of the software as well and so their opinions count very much as well.
Conclusion:
By now we hope the task of having to purchase a HRMS software no longer leaves you as confused as you were before reading this article. We hope you now know what to expect from a quality software that solves the problem. Some of these features can be seen in software like HRSprout.
The truth is if you don't know what you seek, every and anything can look like it. Knowing to look out for functionalities like a simplified HR routine, a centralized system and any other functionality that simplifies HR processes and gives the HR team more time to concentrate on other activities is a cheat sheet. When you don't see these things in any HRMS software then you should know you are looking in the wrong direction.
When looking to make a choice, a stepwise approach that requires aligning your core organizational needs with the features and functionalities of the most probable options definitely offers clarity about where you are headed. It is also essential to consider your budget and ensure to see how the software would play out in use via a demo. All these steps help to narrow the numerous options down to only the best choice for you. Another thing not to leave out is your professional instinct; it has to feel right for your team and you must believe in the software enough to hand you the effectiveness, efficiency, and productivity you seek.
We are certain you would be making the best choice by following these steps and looking out for these features. Good luck scaling your HR team with the right software!
Why HRSprout
#1
All-in-One HR Management Solution
#2
Employee Digital ID Card
#3
Instant Employee Onboarding Process
#5
Document Management System
#7
Employee Self Service Portal
#8
Agile Attendance Management Tool
#9
Unbelievable pricing - the lowest you will ever find
#10
Everything your business needs - 50 apps, 24/5 support and 99.95% uptime
Join the SaaS Revolution
All-in-One Suite of 50 apps

Unbelievable pricing - ₹999/user

24/5 Chat, Phone and Email Support